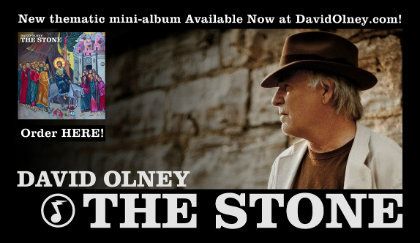 WORLD-FAMOUS BLUEBIRD CAFÉ to COUNTRY MUSIC HALL OF FAME:
Early Summer offers a couple of truly intimate opportunities to see and hear David Olney in some beautiful Nashville venues that inspire, as well. Reserve your table for TONIGHT at The Bluebird Café where David performs with Tommy Womack, Michael Webb and Lisa Oliver-Gray in-the-round and a-rockin'! Make plans to visit the Country Music Hall of Fame in mid-June to witness David Olney & Sergio Webb at the "Songwriter Sessions" at 11:30 AM in the Ford Theatre, then check out the rest of the museum currently featuring the Bakersfield Sound exhibit. Try not to drool on Webb Pierce's "armed" car or Elvis' crushed-diamond-paint convertible.
DAD's DAY OUT…. Nashville ~ Beltsville (DC-metro area) ~ New York City:
Yes, Father's Day Weekend kicks off with David Olney and Sergio Webb on Saturday morning, June 16th at the Country Music Hall of Fame. The duo – both fathers themselves – continues to celebrate on Sunday, June 17th in the Washington, D.C.-area with an early, all-ages concert & cookout at The Domes, followed by a Monday night, June 18th DEBUT at The Living Room as part of NEW MUSIC SEMINAR in New York City. The NMS is a big'un! One might wager that the boys will turn that world "Upside Down"!
LITTLE KNOWN FACT….DAVID OLNEY TONGUE-TIE:
Improvising in the studio with a bit of scat and other fun vocal techniques during the recording of his 2007 "One Tough Town" (Red Parlor Records) album, David Olney slyly belted out "Don't Throw Out That Tie"… raising eyebrows of all in the room. It became the working title of the project until it was released as "One Tough Town". Was his lyrical comment a suggestion to not quit the day job, a nod to the boy scouts and always being prepared, or an answer to "Who's The Dummy Now?"
David's current two CD installments of his thematic mini-series – "FILM NOIR" and "THE STONE" – as well as "ONE TOUGH TOWN" and all of his full-length albums, T-shirts and more available direct from the man online at DavidOlney.com and via fine music retail outlets like Amazon.com, iTunes and Village Records.
WEEKLY WEB SERIES "YOU NEVER KNOW" ALWAYS SURPRISES:
David Olney recently held a competition to rename his weekly web video show, keeping fans guessing what he's do next on his "YOU NEVER KNOW" series. Each week, David opens a window to the mind of a songwriter and offers a front row seat to a live performance (often, a song written that day!) along the story behind the song. Visit DavidOlney.com every Tuesday for a new video post.
"Like" David Olney on Facebook ~ Follow on Twitter ~ Look Both Ways Before Crossing the Street